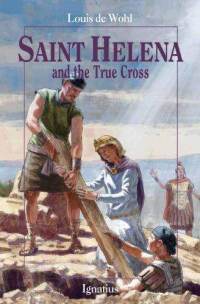 The daughter of a British petty king, the princess Helena is the lawful wife of the Roman governor, Constantius Chlorus. When Britain is treacherously taken over by a usurper, Helena is separated from her husband and forced to live in secret with her son, Constantine. When Constantius returns, however, it is with a new wife and a new title--Caesar of the western empire. Dejected, Helena finds comfort in the words of the Christian priest, Albanus. But Christianity is officially illegal under the persecuting emperor Diocletian, and Helena soon finds her new friends in grave danger. Summoning all her courage, Helena decides to confront her former husband and in doing so, possibly change the course of history forever.
For some time, I have had my eye out for a historical fiction treatment of the life of Constantine--preferably one that I could read with my kids. Though focusing on Constantine's saintly mother,
Saint Helena and the True Cross
fit the bill very well. I read it with my older kids and, as it turned out, everyone except the 15 month old listened in. The story was interesting and full of historical detail which allowed me to to diverge at certain points to give lessons about Roman and Christian history.
Re-released in 2012 by Ignatius Press,
Saint Helena and the True Cross
is not a new book. It was originally published in 1958 by Vision Books as part of their renowned series for younger readers. Written by Louis de Wohl, it contains all of the historical detail and narrative drive that one would expect from the author of such classics as
Citadel of God
and
The Restless Flame
. The book is an engaging retelling of the life of one of history's most amazing women, as well as a history lesson on the life of her famous son, Constantine the Great. Young readers and old will appreciate the epic sweep of the tale--from Britain, to Italy, to Jerusalem--all brought together via Louis de Wohl's masterful skill as a storyteller.
Helena herself is presented as an audacious, impetuous woman who was never to be denied when she had her mind set on something. And from what we know about her life, she must have been just that. De Wohl does take some liberties with the history concerning Helena's background, but this does not impact the story overmuch. Helena's search for the True Cross at the end of the novel is drawn almost entirely from sacred and historical tradition (particularly the account found in
The Life of the Blessed Emperor Constantine
by the Church historian, Eusebius Pamphilus) and makes for very compelling reading.
Though I thoroughly enjoyed
Saint Helena and the True Cross
and found it a fitting tribute to a great saint of the Church, I still think that Constantine deserves a sympathetic novel of his own--probably several. His life was simply epic. For more about Constantine's incredible life and career, feel free to check out my article from a recent issue of
Catholic Men's Quarterly
,
Constantine: Military Hero and Christian Emperor
, or the outstanding biography by Charles M. Odahl entitled
Constantine and the Christian Empire
.