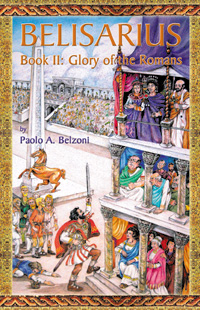 Hey, I wrote these books!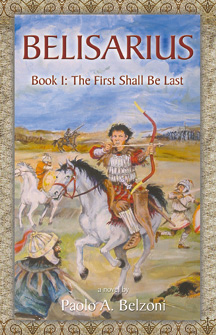 Praise for Belisarius:

"An ambitious tale, filled with action, spectacle, and intrigues of all kinds....It is painstakingly authentic in its historical, military, and religious detail, assiduously researched and replete with facts....Not only is it driven by costumed action and Dune-like plots-within-plots, the novel exalts a youthful leader who is virtuous to a fault, is unfailingly loyal to God and country, who manages setbacks with aplomb, is handy with weapons and gets the pretty girl in the end."
—John J. Desjarlais, CatholicFiction.net
---
About Me
Name: Florentius
Location: New Jersey, United States
A Roman tribune, my heroics helped defeat the Persians at the Battle of Satala in AD 530. Leading a squadron of heavy cavalry into the Persian center, I grabbed hold of the standards of the Persian general Mermeroes and flung them to the ground. Thinking their general slain, the Persian army fled from the field, but not before their elite Immortals dealt me a fatal wound.
Paolo A. Belzoni
Promote Your Page Too
C.H.A.P.L.E.T - Catholic Homeschool Association
Promote Your Page Too
Previous Posts