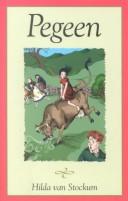 The Bantry Bay series by Hilda van Stockum wraps up with
Pegeen
, the story of an orphan girl who is taken in temporarily by the O'Sullivan family while awaiting word from her uncle in the United States. Full of spunk and mischief, Pegeen was introduced in the previous book in the series,
Francie on the Run
, when she met Francie O'Sullivan while chasing her run-away pig. In this book, her character is developed more fully. She is not an all together good girl at first. She has a tendency to cover her faults with outlandish fibs and to atone for her miscues by making them a thousand times worse. That said, she is presented as having a heart of gold and soon learns from her mistakes thanks to the kind guidance and understanding of the O'Sullivans.
My children absolutely loved this book--perhaps better than the first two books in the series, which is saying something. Several of Pegeen's misadventures had them laughing hysterically, particularly the incident with Patricia, the elder O'Sullivan girl's prized doll. The charming line art illustrations by the author were a great enhancement to the text and particularly helped bring to life the more humorous episodes. The book has a lovely though completely expected ending.
Having read all three books in the
Bantry Bay
series now, I can heartily recommend it. Van Stockum's books are especially well-suited for kids 7 through 10. My younger ones also enjoyed the series, and lurked around whenever we read out-loud. The writing flows well and is not overly simplified which made the series enjoyable reading for dad, too. A charming window into life in 1930s Ireland, the series is educational as well as entertaining. We will be moving on to Van Stockum's Mitchell series next, the first one of which is
Five for Victory
.